Veterinarians

Dr. Philip Nelson
In December of 1973, Dr. Nelson bought a veterinarian business which was then located in a storefront near 25th street and Central Avenue northeast. In 2006, he moved his veterinary hospital to its current location on Central Avenue Northeast. Dr. Nelson enjoys overseeing a staff of skilled veterinarians and is highly dedicated to his clients. He believes in a practical and common sense approach to Veterinary Medicine and has never talked anyone into spending money that they should not spend. "I believe that if you take care of people, they will take care of you."
For Dr. Nelson, The welfare of the pet has always come first. "I try to do the best that I can and treat them as I would my own." This is the Pet Central philosophy.
Dr. Nelson no longer sees patients regularly but can usually be found around the clinic visiting.
Dr. Hilary Faas
Dr. Faas is our superhero medical director! She actually joined Pet Central as a technician in 2000 and just couldn't stay away after earning her DVM from Ross University in 2012. In 2018 she took over the role as the medical director and has been rockin' it ever since! In her free time she wrestles kodiak bears and swims with feral great white sharks. Dr. Faas also moonlights as a superhero, keeping the Minneapolis community safe from locusts. Her nicknames from the staff include "Faas-boss from Ross" and "Mom" and enjoys long walks by the city dump. In all seriousness, she skillfully cultivates our family culture and her sense of humor keeps the staff laughing every single day. She is very dedicated to help every patient she sees and enjoys helping pets live their best lives. We are so lucky to have her as our boss!

Quote to know Dr. Faas by: "Uh-huh"
Dr. Mary Ngo

Dr. Ngo grew up in St. Paul and attended the University of Minnesota, earning her Doctor of Veterinary Medicine in 2006. Shortly after, she began her veterinary career at Pet Central, where she's helped foster a familial atmosphere and feeling of community. Dr. Ngo has a special interest in avian and exotic medicine, as evidenced by her four pet birds, Lydia, Wasabi, Ponzu, and Kruizer. She also claims three dogs (Mochi, Mango, and Soba), and a crayfish named Pebbles. Outside of her love for animals, Dr. Ngo also enjoys reading and doing all the crafts imaginable, including quilting, cross-stitching, and scrapbooking.
Dr. Jasmine Hoveland
Dr. Hoveland began seeing patients at Pet Central in June of 2019. She earned her Doctor of Veterinary Medicine from the University of Minnesota after more than five years of working as a veterinary technician. While she's not native to Minnesota, she's no stranger to the cold; Dr. Hoveland grew up on a farm in Montana! In her past she's trained and raced sled dogs and is currently the proud owner of four bulldogs and one Dogo Argentino named Lex. She's a fan of our fish friends too. When she's not caring for animals, Dr. Hoveland enjoys trying new restaurants and sitting down for her favorite TV shows, Grey's Anatomy and Game of Thrones.
Quote to know Dr. Hoveland by: "Be kind, for everyone you meet is fighting a hard battle you know nothing about." -Ian Maclaren
Dr. Cally Devitt
Dr. Devitt started her tenure at Pet Central in May of 2016 but has been a familiar face at our hospital for much longer, bringing her pets to be treated at Pet Central since she was a child. She received her Bachelor's in Biology from Saint Catherine University and her Doctor of Veterinary Medicine from the University of Minnesota. Before becoming a trusted veterinarian, she worked as a tech for Pet Central and served as a volunteer for many local animal organizations. Dr. Devitt has a flair for words, citing Garth Nix and Mary Roach among her most beloved scribes. She has a love for engaging art presentations and for her many trouble-making pets that number seven strong and range in type from feisty chihuahuas to photogenic leopard geckos.
Quote to know Dr. Devitt by: "Worship the potato? The idea seemed silly to me. But then I thought, what else is more deserving of worship? It's simple, it comes from the earth, and it can kill you if you disobey it."
Dr. Andrew Brothers
Description under construction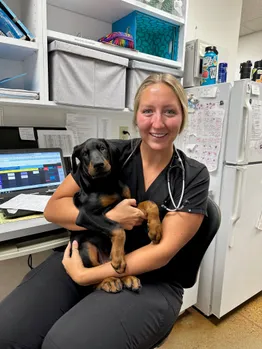 Dr. Eleanor Stenglein

Dr. Stenglein has actually been involved with Pet Central for her externships through school over the last few years. She officially joined us as Dr. Stenglein, DVM after receiving her doctorate degree from Iowa State University College of Veterinary Medicine in July 2023 and we are so happy she came back "home"! She is excited to join us because we feel like family to her. Born and raised in NE Minneapolis, Dr. Stenglein is actually a family friend of Dr. Nelson. Before becoming a Veterinarian, she spent a majority of her time working in the restaurant/service industry. When she isn't here at the clinic, she will likely be outside hiking, swimming, or gardening. She has one horse named Shadrach and we will likely convince her to adopt an impounded animal sooner or later.
Quote to know Dr. Stenglein by: "Follow your dreams for as you dream so shall you become."
---
Practice Management

Tina
Tina has been a committed employee of Pet Central since 2013 and now wears many hats within the clinic, serving as a lead technician and practice manager. She graduated from the Minnesota School of Business with her veterinary technician degree and enjoys caring for her troop of pets, which includes terrier Fireball, tabby cat Francisco, tortoiseshell long-hair Kitti, and black cat Bowser (formally known as Baby Bowser). Outside of spending time with her fur babies, Tina also loves playing games and cheering on the mighty Minnesota Vikings with her husband Trent and two sons. Most of all, Tina loves wearing fun scrub tops for all the Holidays!
Quote to know Tina by: "When babies take their first step and then fall on their bottoms, we praise the first step. We don't criticize their fall… As adults we could learn a lesson here… we spend more time criticizing our faults and not enough time applauding our small steps."
Katie
Katie joined as a technician at Pet Central mid-pandemic in July 2020 and worked her way up to practice manager in July 2022. Katie attended Minnesota State University Moorhead where she achieved her degree in Instrumental Music Education, but found that her passion for animals is where her heart is. Her favorite thing about working at Pet Central is "the collective love we have for our patients". Katie has a Doberman named Gadget, a Pit Bull rescued from our clinic named Letty, a calico cat named Lorraine, a Torti cat named Gremlin, and a one-eyed "raccoon" Tabby named PB&J. When Katie is not working, you can catch her playing disc golf with her boyfriend, cooking, or sitting on her couch binge-watching TV.
Quote to know Katie by: "Fall seven times, stand up eight"
---
Technicians
Breanna, CVT
Breanna has been an outstanding technician with Pet Central since October 2015. Born and raised in Blaine, Minnesota, she studied at the Minnesota School of Business, earning her accreditation in their Veterinary Technician program in 2013. Prior to her tenure at Pet Central, Breanna completed a two-year internship at Skyline Veterinary Hospital in Fridley. In her free time, Breanna loves spending time with her children. She counts five pets among them, three cats named Layla, Felix, and Dottie along with two dogs, Luna and Ruby.
Favorite Quote : "I wish I was a little kid again, skinned knees are easier to fix than a broken heart."
Meggan, CVT
Meggan titles herself as the "worlds okayest vet tech", but she is obviously WAY more talented than okay! She joined us in 2016 after receiving her Associate of Applied Science in Veterinary Technology from Minnesota School of Business in 2013. She also has been a volunteer with Safe Hands Rescue since 2009, helping with intakes and fostering. Meggan grew up in the 'burbs and spent her summers growing up on a family dairy farm. She's been working with animals since 2005 and loves Pet Central because "No two days are the same here, variety is the spice of life." Meggan enjoys taking nature walks where she picks up pretty rocks, shiny objects, and other peoples litter. She also collects little ancient/special needs dogs, including a Yorkie mix named Eddie who sports punk rock mohawks, a toothless Chihuahua named Daffodil, and is currently fostering a paralyzed Poodle mix named Owen. Music is another passion of hers and enjoys doing epic lip synch performances in the treatment area.
Quote to know Meggan by: "Know what I'm sayin'?" -Meggan
Leighton, VT
Leighton originally started at Pet Central in January of 2018. She moved away for a while, but missed us so much she came back in July 2022 and we were so excited to have her back! She attended Argosy University for her vet tech degree for one year before they shut down. Before joining us Leighton volunteered as a kennel assistant and after that worked at another vet clinic. Her favorite part about working at PC is the how close everyone is, "We're a family and we stick together." During her free time Leighton likes to play with her Boston Terrier Princess Daisy Mae Flowers, Daisy Mae for short, and her Cane Corso named Hennessy. She also likes to hang out with friends, play video games, and read.
Quote to know Leighton by: "Absolutely." and "I work hard so my dog can have a better life."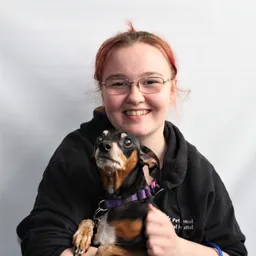 Chelsea, VT
Chelsea has loved the team dynamics and family-like atmosphere of Pet Central since she started with us in May 2018. Near and dear to her heart are her cats, a medium-haired named Whisper, and Brutus, a short-hair without a tail. She also adores her dog Lola, who's a miniature pincher/rat terrier mix. Chelsea enjoys writing creative fiction in her spare time, and even once wrote, directed and starred in a student-led production play at Spring Lake Park High School, which has been used to spread verbal abuse awareness at schools as far ranging as the US Virgin Islands.
Quote to know Chelsea by: "Hope is born where certainty dies."- C.E. Chilson
Bridget, VT

Bridget came to Pet Central one month before the pandemic in 2020. She is a huge part of Pet Central and we appreciate her so much! Before working with us, she earned her degree in Medical Lab Science from Minnesota State University, Mankato and has some experience in retail jobs and walking dogs at a shelter. Her favorite part of working here is getting to work with some of the strongest and hardworking people she has ever met and they make it a joy to come to work. Also, getting to snuggle all the animals! On her days off she enjoys reading a good book while being wrapped in a blanket or going on a hike with her two dogs Winston and Togo.
Quote to know Bridget by: "Anything worth dying for is certainly worth living for" -Joseph Heller (Catch 22)
Heather, VT
Heather came to Pet Central in April 2020 with ambition to move up the ladder in Animal Medicine. She is currently studying Animal Science with a Pre-Vet focus with hopes to attend Vet School after graduating. She will then become a Veterinarian and stay at Pet Central for ever! (Just kidding, but we hope so). Heather has a Golden Retriever named Charlie and a cat named Benjamin. You can typically find them all cuddling watch and watching Netflix. Heather's favorite movies are: The Heat, Pitch Perfect, and the Bodyguard.
Quote to know Heather by: "Everyone you meet is fighting a battle you know nothing about. Be kind. Always."
Bridget "Jet", VT
Jet joined Pet Central in December 2020 after volunteering at an animal shelter and co-managing a doggy daycare. She is one our our impound specialists and enjoys naming the stray animals before finding their new homes. Her favorite part of working at our clinic is the chaos, her comedian coworkers, and the insane amount of Pit Bulls we see. In her free time Jet enjoys watching her favorite movie "Fantastic Mr. Fox", having bonfires, rolling in the dirt, and accepting gifts from stray cats. Jet has two pets: Mumu the cat and Gilbert the pit bull.

Quote to know Jet by: "We be positive in here." -Dr. Nelson
Haley, VT

Haley has been a fantastic vet tech since starting in 2021! She attended St. Paul College and has spent the last 7 years in various veterinary medicine and kennel roles. Animals have always been a passion in her life. Haley's favorite part of working at Pet Central is the environment. "Everyone is friendly and we work together like a family." Haley collects Studio Ghibli and Tim Burton movies. Her other hobbies include hiking and playing video games. Haley's favorite thing to do is play with her fur babies, and she definitely has enough to snuggle with! She has three cats (Artemis, Aesop, and Jupiter), two dogs (Jax and Athena), a ferret (Xena), a leopard gecko (Zira), and a crested gecko (Venus)!
Krystal, VT

Krystal joined our family in late 2021 as a relief technician and loved it so much she decided to become a full-timer. We are so happy to have her bubbly energy in the clinic! Before Pet Central, she received her Bachelors degree in Biology with an emphasis in Zoology from Minnesota State University, Mankato. Once she graduated she did an internship at Como Zoo, spent a couple years working at a doggy daycare, then spent another two years at another clinic before finding a home with us. Krystal's favorite part of working at Pet Central has been her coworkers and all of the opportunities to learn and grow as a technician. In her free time, you will find her spending time outside, swimming, making art, and snuggling her fur-babies! She has two pets, a kitty named Meeko and a dog named Lilo.
Quote to know Krystal by: "When was the last time you did something for the first time?"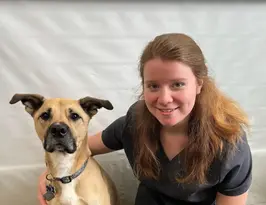 Melissa "Mel", VT
Mel came on board in 2021 at a vet tech. She is a joy to have and cares so much about about our patients! She is currently going to school for a degree in EMT and firefighting, so we definitely feel safe when she is around! She was born and raised in Minnesota and has worked various jobs before coming to us, including a pet store, Papa Johns, and the State Fair. Mel's favorite part about working with us is "the amazing team. Everyone wants to help each other. We have a lot of fun." When not working or in school, she is usually reading, drawing, playing video games or D&D, hiking, or sewing. Her pets include a dog named Nova, a gecko named Saturn, and Cider, her tarantula!
Quote to know Mel by: "I have no idea what I'm going to do tomorrow" "How exciting!"
Maureen, VT

Maureen started as an intern and decided to stick around because she liked it here so much! She is currently pursuing her Bachelors degree in Animal Science with a minor in Marine Biology at the U of M. She spent some time as a receptionist at the U of M Veterinary Medical Center before joining us and her dream is to work in the nutrition department of a zoo. She enjoys Pet Central because "everyone is super friendly and willing to help me learn". In her spare time she enjoys reading and playing video games with her family and friends. In her hometown of Green Bay, WI she has four cats: Hades, Tiny Cat, Kanye, and Psycho. At her home here in the cities she has three more with her boyfriend: Chester, Thalia, and Lavender.
Quote to know Maureen by: "If you don't put effort in you are bound to fail" -Maureen's dad
Katie, VT

Katie joined the clinic in 2022 and has been a wonderful addition to the staff! Before working here she worked at a pet store caring for the animals. She grew up in Crystal, MN and attended North Hennepin College. Her greatest joys working at Pet Central is seeing the variety of animals and her "family" of coworkers. When not taking care of the patients here she is usually taking care of her MANY animals at home. Katie has two ferrets (RJ & El), three bearded dragons (Stan, Taz, & Dova), three leopard geckos (Geo, Benji, & Ziggy), two guinea pigs (Teddy & Lilly), and an African bullfrog named Chett. In her down time she also enjoys playing video games.
Kianna, VT

Kianna just recently joined us in 2022 as our kennel extraordinaire and worked her way up to technician! She is currently going to the University of Minnesota studying Pre-Vet. She has previous experience working at an animal shelter and fostering dogs and puppies through United Doberman Rescue (10 fosters to be exact!). She is excited to work with animals and learn every day with us! She enjoys Harry Potter and Marvel movies, and in her free time enjoys watching tv, hanging out with friends, and spending time with her German Shepard Kota and her gray kitten Mouse.
Quote to know Kianna by: "Everything happens for a reason."
Sienna, VT

When Sienna came in for her interview mid-2023 we knew she had to join the Pet Central posse! She is from Shoreview and is currently going to Penn Foster for her CVT. Growing up, she volunteered at shelters and knew this was the field she wanted to be in. After two years working at another clinic, she took some time to try working in human medicine but then decided that humans are gross and decided to come back to the animal side! Why Pet Central? Because "The people are awesome to work with," and she loves "to be with all of the furry critters!" She enjoys photography, epoxy art, hiking, traveling, and hanging out with her three cats: Luna, Sherlock, and Enola.
Quote to know Sienna by: "Wherever you go, no matter what the weather, always bring your own sunshine." -Anthony J. D'Angelo
---
Kennel Staff
Reagan, Kennel Attendant

Reagan has been with us since the end of 2022 and this is her first job in the Veterinary Medicine industry. She is currently attending the University of Minnesota for her Bachelor of Animal Sciences in the hopes of becoming a veterinarian. Her favorite part of our family is how kind and welcoming everyone has been and of course, helping and loving all of the fur-babies! Reagan was born and raised in Minnesota. In her free time you can catch her walking her "Mississippi mutt" Hardy, cooking or baking, and binge watching TV.
Quote to know Reagan by: "Live what you love."
Aamani, Kennel Attendant

Aamani joined Pet Central early 2023 as a kennel attendant and has been learning some of the technician role as well. This position is her introduction into the veterinary industry and she will be beginning her schooling in the Fall at Augsburg College to study Pre-Vet. Her dream is to move to India and practice as a Veterinarian there as some of her family is from there, how cool is that?! Although this is her first job at a clinic, she has worked at a doggy daycare and has volunteered with animals since she was 8 years old! She loves working at Pet Central because she has people to share her passion with. When she is not at the clinic, she enjoys painting, reading, and watching movies as long as her Pit Bull, Lexi, is hanging out with her.
Quote to know Aamani by: "One day, a long time from now, when you approach the rainbow bridge, I hope they all come to you to say 'Hello'."
Tenzin, Kennel Attendant

Tenzin came to us in 2023 and is currently working towards getting her bachelors degree in Animal Science at the University of Minnesota. She is getting her feet wet in the veterinary industry, however she has experience volunteering at animal shelters in India! Tenzin was born in India and moved to America in 2008. Her favorite part of being a part of the Pet Central family is how warm and welcoming the staff and clients have been. When she has free time she enjoys relaxing and hanging out with her two guinea pigs.
Quote to know Tenzin by: "Noodles, don't noodles."
---
Receptionists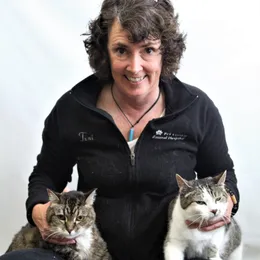 Toni
Toni's start at Pet Central dates back to September of 2004. She's been a first-rate, multitasking receptionist with us ever since. Prior to Pet Central, Toni grew up in Brooklyn Park, graduating from Hennepin Technical College and working in the kennels at the local pet hospital there. Now she loves murder mysteries and anything with the Oscar-nominated Mark Wahlberg in it. But she'll always hold a high regard for the Minneapolis-born Prince, as she was featured in one of his music videos! Toni has two cats, Twist and Jack.
Quote to know Toni by: "I'm leavin' ya, Martha."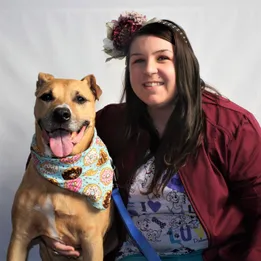 Nichola
Nichola serves as a front desk receptionist at Pet Central and doubles as our Instagram photographer and social media manager. Her love of art is also showcased in the tattoo shops she and her husband open in their spare time. Nichola is a rolling stone, having been born in Virginia and living as far west as Tucson and Las Vegas, gaining more than 15 years of veterinary experience along the way. She has a soft spot for senior animals especially. She also volunteers her time at spay and neuter clinics and raises butterflies at home, along with a plethora of plants.
Quote to know Nichola by: "Quiet people have the loudest minds." -Stephen King
Alice
Alice joined the Pet Central family in September of 2020 as a veterinary technician but found her happy place at the reception desk! She has 8 years of customer service experience under her belt with three of those years being at Petco. Alice's favorite part of working at Pet Central is developing relationships with our clients and getting to work in NE Minneapolis where she grew up. In her free time, she enjoys being in nature and going on hikes as well as painting and watching Trailer Park Boys or Harry Potter movies. Alice has a plethora of pets, including a blue-tongued skink named "Stinky Slinky", a ball python named "Dovrah", a green cheek conure names "Pixie", and her cat "Soop".
Quote to know Alice by: "Be ready so you don't have to get ready."

Molly

Molly hit the ground running in 2022 as one of our full-time receptionists and has been a great addition! She has volunteered with her local animal shelter and even worked at Como Zoo before she decided to go into working at a vet clinic. She loves Pet Central because of our wonderful clients and of course her coworkers and the animals! On her days off she likes to stargaze, travel, and find fun events to attend. She absolutely adores her two dogs; a mini wolfhound named Dakota ("Kodie" for short) and her German shepherd Lilly-gram.
Quote to know Molly by: "There's always room for one more."
Aubreanna
Aubreanna joined Pet Central in mid-2023 as a receptionist and she quickly became one of our rockstars! She spent 2 years at another clinic before coming to us and spent 7+ years before that in accounting. Her passion for animal care is the reason she made the switch. Her favorite part of working at Pet Central is the ability to work with animals and help owners care for their pets the best way possible every step of the way. Aubreanna grew up in NE Minneapolis so she is so happy to be working here as well! Her guilty pleasure is popping bubble wrap and she loves her 8 year old Great Dane named "Aspen".
---
Groomers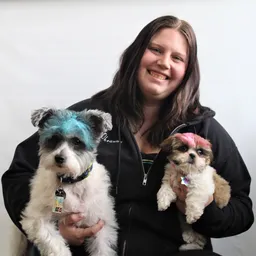 Oksanna
Oksanna has been a valued member of the Pet Central team since May 2016. She's works almost all positions as a technician, receptionist, and a groomer. Oksanna completed her grooming training at Pucci Pet Career Studios. She's a devoted fur mom to five dogs, affectionately named Nugget, Obie-Wan, Milton, Lyra and Bella, along with five cats, Titan, Leia, Binx, Raya, and Ash. Oksanna has also had a love for drag racing since she was five years old, journeying north to Brainerd International Raceway every single year. She's a fan of both the Twilight movie saga and the Maze Runner series and was bummed out to hear the World War Z sequel was scrapped. She is also a Disney fanatic (Stitch is her favorite).
Favorite Quote: "Ohana means family. Family means nobody gets left behind or forgotten."
Ava

Ava joined our family in 2022 after 5 years of past experience as a certified groomer! From Rosemount MN, she went to University of North Dakota for Pre-Law and Chinese before finding her calling working with animals. She also spent some time as a dog walker. Her favorite part of being a groomer is helping animals look and feel their best! When not working, you will probably find her practicing her creative dog grooming and binge watching her shows. Ava has two dogs named Ollie and Nena, two cats named Mofongo and Victor, Electra the fish, and Connor the Conure!
Quote to know Ava by: "Love yourself first and everything else falls into line." -Lucille Ball
---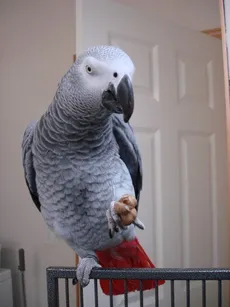 Lydia is Pet Central's African Grey Parrot, also known as our hospital's greeter and noise maker. Lydia recently celebrated her 20th birthday and is always excited to welcome our patients in the lobby! And while she takes her job very seriously, she can sometimes be found in time out in our breakroom or relaxing on her perch in the lobby chewing paper and making a mess.
African grey parrots have been kept as pets for thousands of years. The Egyptians, known for their belief that the cat was sacred, are thought to be the first to keep African grey parrots and are said to have depicted them in their hieroglyphics. The Greeks also valued the African grey parrot as did the Romans who kept them in ornate cages.
Favorite quote: "Want a peanut?"