Payment is expected when services are rendered.
In order to focus on our patients' needs, customer service and minimizing costs, we do not bill.
We accept debit cards, credit cards (Visa, Mastercard, Discover, American Express), Care Credit, Scratchpay, and cash.

When unexpected illness strikes a pet, unexpected expense strikes as well. Pet Central Animal Hospital understands this and a CareCredit program or a Scratchpay program may be a good option for your family. It takes just a few minutes to complete an application and will allow you to break down your payment into monthly installments.
Care Credit: This is a credit card that you can use for human and pet medical expenses. Apply online at: www.CareCredit.com.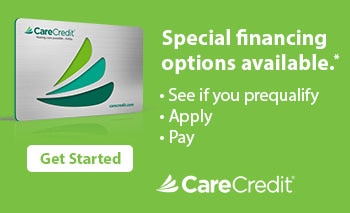 Scratch Pay: This is a payment plan in which payment arrangements are made through Scratchpay. This option has a higher approval rate than Care Credit. A hard credit check is not required if a 3 month payment plan is chosen. You must know the estimated cost of the procedure/vet visit prior to applying. Total cost of loan must exceed $200. Apply online at: www.scratchpay.com
Although there are veterinary clinics who have the ability to consider income, Pet Central does not have the outside funding to do so. We are sorry for any inconvenience this may cause.
Insurance

Another popular option for your family and pet is insurance coverage. Most pet insurance companies use reimbursement methods to pay you back for regular or unexpected medical expenses. To learn more, please visit the following pet insurance websites.
Other pet insurance options are available. We recommended checking with your employer to see if they offer Pet Insurance in your benefits package.